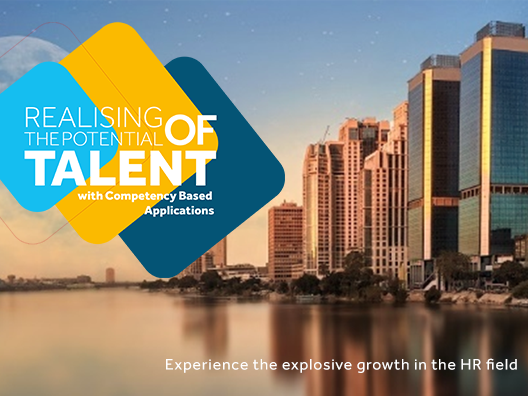 Isn't it Time to to REALISE The Potential of your Talents?
With the constant market and economic changes and companies witnessing high turnover and downsizing rates in Egypt, new stars are born when two of the leading Human Capital solutions, JOBMASTER group, Egypt and Riverwaves,
The main objective behind this partnership is that the latter's mission is to expand its human capital exposure by providing them with customized competency-based solutions developed by a wide range of experts in this field.
"Realise the potential of Talent" was the name of the launching event, held at Uptown Cairo, Egypt on November 13th, 2017 which included various selection of topics like discussing the competency modeling and its applications by Alexandra Pascu-the Consultancy Manager at Riverwaves- followed by an interactive activity involving the audience to explore the model themselves through a scene from the movie "Up in the Air" starring George Clooney, to identify the competencies he's looking for in his subordinate in a very sensitive position of laying off employees, which he actually does for a living. Afterwards, the audience were asked to vote for the used competencies through a real-time voting application and the results are displayed instantly on the most relevant competency to the scene shown earlier.
The second half of the day included a discussion about the recent pay trends in Egypt, developed by JOBMASTER team, and at the end was the panel discussion moderated by JOBMASTER's CEO, Hisham El-Badawy. The panel incorporated three of the strongest business figures from different industries; Hany Mahmoud, Vodafone Egypt Chairman, Osama Mourad, MPower Investments' CEO and Randa Ahmadein, HR Director at Al Ahli United Bank. The panel basically was commenting on the previously debated pay trends topic but adding a little taste of business to it.
About JOBMASTER GROUP:
JOBMASTER Group is one of the leading Human Capital Solutions providers in the MENA region by providing the highest quality of Human Capital Services, while offering premium level of professionalism and keeping track on the market updates and best practices.
For more info, please visit our website: www.jobmastergroup.com
About RIVERWAVES:
With over 20 years industry experience working closely with HR Directors and Managers, we can help your organisation achieve its goals by developing stronger, more engaged and sustainable workforces.
Our bespoke and flexible Competency Solutions give you the focus and skills to succeed in today's challenging times – and put you in excellent shape for the future. We back this up with a range of support services through our multi-national network of highly experienced consultants.
For more info, please visit our website: www.riverwaves.co.uk